Who is a "Tradie"
Tradespeople, or "Tradies" as they are commonly known, are skilled workers usually with some kind of trade qualification. In many cases an apprenticeship is required before being qualified to practice.
Some of the most common trades are:
Builders
Plumbers
Electricians
Mechanics
Carpenters
Boilermakers
Masons
Tilers
Plasterers
Glaziers
NEWS ALERT: Major changes are coming to income protection policies from 1st October 2021
Why is Income Protection important for Tradies?
Tradies spend a large percentage of their time performing manual work. Therefore an illness or injury is likely to have a greater impact on their capacity to work than an office worker.
Income protection can replace up to 75% of income lost while you are sick or injured. This money can be used to pay household bills such as mortgage repayments, gas, electricity, water, telephone, school fees, health care, food, travel and other expenses.
Even if you are single, income protection can be important in preserving your lifestyle – see our case study for Bob the carpenter.
If in any doubt about the importance of income protection watch our Income Protection Claims Videos, including Richard's Story an electrician with a nerve issue affecting his hands.
What are the Special Risks faced by Tradies?
Tradespeople are exposed to greater risk of physical injury than office workers due to the nature of the work they perform.
Also the work environments of tradies, e.g. building or construction sites, industrial sites, mining sites, oil and gas onshore or offshore rigs, are more hazardous than an office environment.
This higher risk profile is supported by claims statistics. OnePath reported in 2017 that the occupations with the most claims were carpenters and electricians.
Many tradespeople also operate as sub-contractors or sole traders. This usually means that they will not have the protection of workers' compensation insurance while on the job. It also means they will not have sick leave or other leave entitlements to fall back on if they are unable to work due to illness or injury.
Some companies will insist that their tradespeople take out their own individual income protection policy before being able to start work on a site.
How much does Income Protection for Tradies cost?
Due to the potential additional risks, the cost of income protection cover for tradespeople is higher than white collar or office-based occupations.
The graph below of stepped premiums (i.e. premiums which step up with age) shows that the average monthly income protection premiums for plumbers are more than double those for accountants. As premiums vary by up to 60% cheaper policies can be found by comparing premiums using Compare Quotes.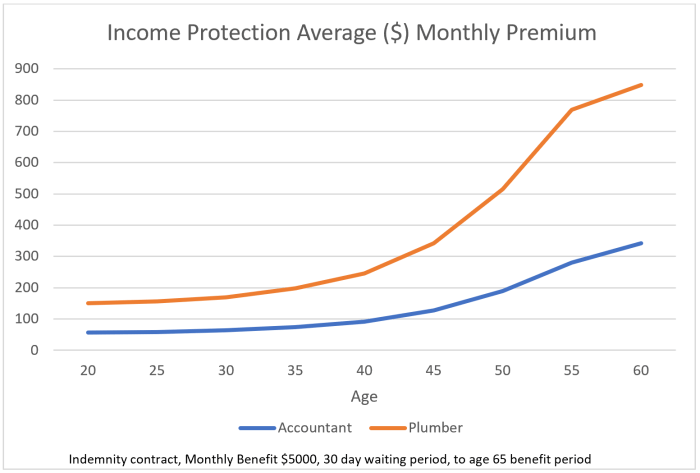 Source: Insurance Watch average stepped premiums from the following insurers: AIA, BT, ClearView, CommInsure, MLC, NEOS, OnePath, TAL, Zurich as at 18/10/2019
How is Income Protection different to Workers' Compensation?
Workers' Compensation insurance usually only covers injuries incurred on the job or travelling due to work. It doesn't cover injuries from car accidents, playing sport, or any other activities on the weekend or while on holidays. Workers' Compensation also doesn't cover illnesses which are not related to your work.
Recent claims statistics show that accidents are responsible for only 15.6% of TPD claims, with the remainder illness based. The FSC reported that accidents accounted for only 33% of all income protection claims in 2019.
Therefore, even for those tradies who are employees and covered by Workers' Compensation insurance, there are good reasons to have income protection to cover unexpected illness and injuries outside work hours.
Income Protection Features and Benefits important for Tradies
Below we consider some features which it may be desirable for tradies to have in their income protection policies. You can use Compare Quotes to view whether these benefits and features are included in a policy.
Suitable Waiting Period
Benefit Period to age 65
"Own Occupation" cover
Specified Injury benefit
Guaranteed Renewable
Accident Option
Accident Only income protection
Sports cover
Cover for self-employed
Suitable Waiting Period
Income Protection policies can have waiting periods of 14, 30, 60 or 90 days. The waiting period is the initial period off work for which no payments will be made by the insurer.
Many tradies believe that they need a short waiting period such as 14 days. However the shorter the waiting period the more expensive the cover. For example, a 30 day waiting period can be as much as 40% cheaper than a 14 day waiting period.
Compare Quotes can be used to see how premiums vary with the choice of waiting period.
However, a longer waiting period has to be weighed against the need for cash to meet expenses. The first payment from the insurer may be received up to a month after the end of the waiting period, depending on the insurer payment cycle. To make ends meet until then may require sick leave (if applicable), using savings, liquidating assets or receiving support from other family members such as your spouse.
Benefit Period to age 65
Illnesses and injuries which are long term and/or recurring can be the most damaging financially. The longer the income protection benefit period, the better the coverage for a long-term illness or injury.
The minimum benefit period for most retail and super income protection policies is usually 2 years. Some direct insurers offer benefit periods as low as 1 year or 6 months but these offer little protection against long term financial loss.
On the other hand, with an age 65 benefit period a 30 year-old could potentially make a claim for up for 35 years. In comparison, a 2 year benefit period means the payments will stop after 2 years. Yet, as the graph below shows, the cost difference between the two is not that large.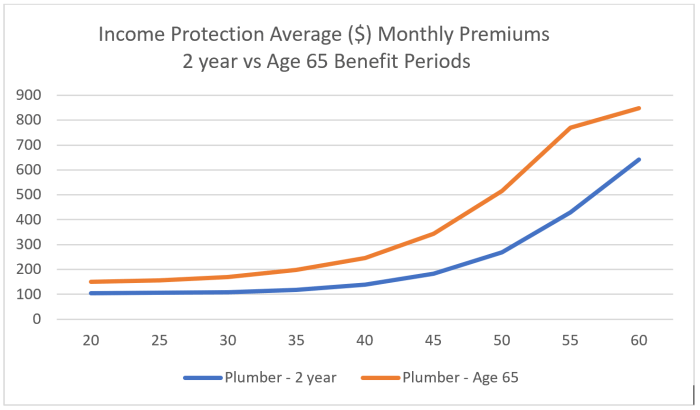 Source: Insurance Watch average stepped premiums from the following insurers: AIA, BT, ClearView, CommInsure, MLC, NEOS, OnePath, TAL, Zurich as at 18/10/2019
Some insurers will limit the benefit periods they offer to tradies to 2 or 5 years. Before settling for one of these it is important to check if a longer benefit period to age 65 is available using Compare Quotes.
Specified Injury Benefit
Working in a trade usually involves a high percentage of manual or "on the tools" work. Therefore there is a higher potential for injury due to accidents.
Given this, income protection policies which include a "Specified Injury Benefit" can be of particular interest to tradies. This benefit pays a set number of months benefit for certain specified injuries, such as a fractured elbow or collarbone. This benefit will be paid even if the insured person returns to work e.g. on light duties.
For example, under this benefit a carpenter may receive a set benefit of 2 monthly payments if he breaks his leg, even though he returns to work after one month off with his leg in plaster and performs office duties.
Most comprehensive income protection policies will have this feature but it is also included in some cheaper "Standard" or "Basic" policies. See Compare Quotes to find out which policies offer this benefit.
"Own Occupation" income protection
It is important for tradies to ensure that their income protection covers their "own occupation" i.e. their regular occupation. An "Any Occupation" definition leaves it open for an insurer to suggest that the tradie can perform an occupation other than the one they had before they fell sick or were injured. An "All Duties" definition would require the tradie to be incapable of performing all of the duties of their occupation plus those of any other occupation.
Many tradies are highly skilled and are paid commensurately. Without an "own occupation" definition of total disability, an insurer may require a return to work in an occupation which requires less skill and therefore is associated with a lower income.
Some policies may have an "Own Occupation" definition initially but if the illness or injury is long term the definition may be downgraded. Therefore it is important to check whether "Own Occupation" will apply for the whole of the benefit period when comparing policies using use Compare Quotes.
Guaranteed Renewable or Non-cancellable policies
Cheaper Accident and Illness policies sold by general insurance brokers are sometimes confused with income protection policies. An important difference between these policies is that Accident and Sickness policies are not guaranteed renewable, whereas income protection policies generally are.
A policy that is guaranteed renewable is not able to be cancelled by the insurer as long as the premiums continue to be paid. Without this feature, an insurer can refuse to renew a policy once a claim is paid. This can be disastrous in the case of a recurring medical condition as it may not be possible to obtain cover from a new insurer for what will be considered a pre-existing condition.
Accident Option
Due to the working environment of most tradies the probability of accidents is higher than for office workers. Many tradies are therefore more concerned about an accident happening than getting ill.
Some insurers offer an extra cost Accident option which will pay a benefit within the waiting period if an injury (not a sickness) causes time off work for a minimum period of time, usually 1 to 3 days.
The accident benefit will be paid even if there is a return to work before the end of the waiting period.
Accident Only Income Protection
Under this type of income protection a benefit will only be paid for an injury caused by an accident i.e. illnesses are not covered at all.
For some tradespeople this may be the only type of income protection cover they can obtain, particularly if they have pre-existing medical conditions.
As there is reduced underwriting required for this cover it can often be put into place quickly and can enable an immediate start to work on a job site.
Sports cover
Some amateur sports, such as AFL football and rugby, have a high incidence of injury. There are different ways that insurers can approach this risk:
Exclusion for any injury arising from the sport
Include coverage for the sport but with a longer waiting period for injuries from this sport
Include coverage for the sport but with a premium loading
The important message here is that insurers can offer different options to deal with the perceived risks of certain sports and there may be ways for cover for the sports to be included. If you are concerned about how your pastime or sport may be treated please go to Get Advice for help from one our advisers.
Cover for Self-Employed
Tradies who are contractors or self employed can have fluctuating incomes. Agreed value policies used to be an option to protect against this but following a directive by APRA after 31st March 2020 these policies are no longer available.
Most Indemnity policies will not pay more than 75% of your income in the last 12 months. This could mean your income protection payments could be reduced if you need to claim after not working for part of the year or your business has had a tough year.
There are however some indemnity policies which calculate pre-claim income as the highest 12 months' income in the last 2 or 3 years, allowing for temporary dips in income.
Also income for the self employed will be net of any business costs incurred. This can be a problem when income has been reduced for tax reasons e.g. by income splitting with a spouse. However under some circumstances the insurer may be prepared to look at the overall income generated. They may also add back other items such as depreciation and private vehicle expenses to increase the insurable income. This should be confirmed at application time.
The above information is of a general nature only and does not take into account your needs, objectives or circumstances. For help with your personal situation you should seek professional advice. To be contacted by one of our advisers go to Get Advice and complete our online Fact Find.