A poll of more than a thousand Australians indicates that people would rather discuss past relationships with their partner than how to manage finances in the event of their death.
The research was conducted by Pure Profile for new insurer, Integrity Life. The results showed the top ten taboo topics were: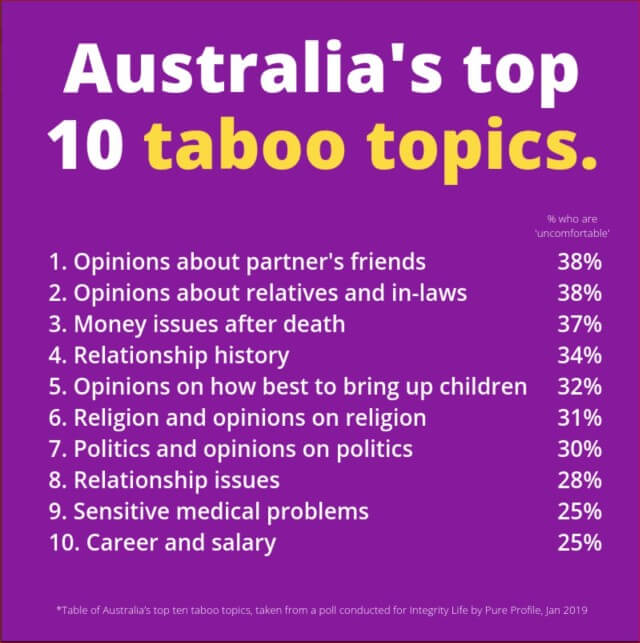 The level of discomfort with conversations about mortality and insurance was highest among younger people. It was nominated as the number one taboo topic for the 25 to 34 year old age group, with 46% uncomfortable discussing money issues after death.
The opposite was true for older Australians. Over 65s were the most likely to discuss financial matters after death with only 23% indicating they wouldn't discuss this topic with their partner.
Managing Director of Integrity Life, Chris Powell commented, "There are plenty of topics that make for uncomfortable dinner time conversation, including opinions on your partner's family and friends. However, discussing what would happen to your loved ones should you or your partner die is one topic that's repeatedly seen as too hard to approach yet is arguably more important."
Insurance Watch provides the tools to help with these difficult conversations. Check out the health statistics at Why do I need Life Insurance?, calculate insurance needs using the Life Insurance Calculator and find out the cost of insurance cover using Compare Quotes.